NEW EMBASSY ADDRESS: Zhou-Enlai Avenue, Plot Nos. 3, 4 and 5, Diplomatic Enclave, Sector G-5, Islamabad
CAAP Memorandum Circular No. 08-16
Regarding Dangerous Goods Carried by Passengers and Crew-Lithium Battery-Powered Personal Transport Devices Including Hover Boards
A message from the Bangko Sentral ng Pilipinas
ANNOUNCEMENT
Message:
Chairman of the Overseas Voting
Secretariat, Department of Foreign Affairs
The Chairman of the Overseas Voting Secretariat (OVS) of the Department of Foreign Affairs Undersecretary Rafael E. Seguis encourages overseas Filipinos to vote in the upcoming 2016 Philippine national elections.
His message may be viewed by clicking the following link:
Message: Chairman of the Overseas Voting Secretariat, Department of Foreign Affairs
CERTIFIED LIST OF OVERSEAS VOTERS FOR 2016 ELECTION
May 09, 2016 National and Local Elections
ANNOUNCEMENT
Following is the list of Voter IDs of Overseas voters who filed their application for registration from 2011 to 2014 through the Philippine Embassy in Islamabad:
List of Printed Voters IDs may be viewed by click the following links:
LINK 1
LINK 2
Concerned overseas voters may claim their Voter IDs at the Philippine Embassy in Islamabad, either personally or thru their authorized representatives.
Any overseas voter who has yet to receive their IDs may inquire on the status of printing and distribution thereof at this Embassy or at the Office for Overseas Voting, 7th Floor, Palacio del Gobernador Building, Intramuros, Manila at telephone numbers +632 521-2952; +632 522-2251 or thru email at overseasvoting@comelec.gov.ph.

PHILIPPINE AMBASSADOR PRESENTS CREDENTIALS TO PAKISTAN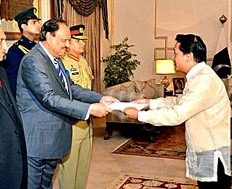 Ambassador Daniel R. Espiritu presented his credentials as the Philippine Ambassador to the Islamic Republic of Pakistan to H.E. Mamnoon Hussain, the Pakistan President at the Presidential Palace in Islamabad on 03 November 2015.
---

PHILIPPINES PARTICIPATES IN
FOREIGN WOMENS BAZAAR 15 NOVEMBER 2015
The officers and staff of the Philippine Embassy in Islamabad led by Ambassador Daniel Ramos Espiritu participated in the Pakistan Foreign Office Women's Association (PFOWA) Annual Bazaar 2015 held at the Ministry of Foreign Affairs in Islamabad on 15 November 2015.
---
PHILIPPINE UNMOGIP CONTINGENT AWARDED MEDALS
Philippine UNMOGIP contingent with Ambassador Daniel R. Espiritu.

Ambassador Daniel R. Espiritu attended the Medal Parade Ceremony of United Nations Military Observer Group in India and Pakistan (UNMOGIP) held at the UNMOGIP Headquarters in Islamabad, Pakistan on 12 November 2015.
---
OTHER NEWS/ANNOUNCEMENTS...


---
---
The Philippine Embassy in Islamabad is pleased to inform the Filipino Community in Pakistan that COMELEC has extended the period of filing of Application for Reactivation of registration records from 31 October 2015 to 9 December 2015.
read more...
OAV ARCHIVES...
---